×
ALFONSO LOPEZ URBINA
Amparo Vigil
Amparo Vigil
Editor's Note: Amparo Vigil is one of four siblings who operate Puerto Alegre Mexican Cuisine in San Francisco. Puerto Alegre is more than a restaurant – it is a vital part of the Mission District neighborhood. Vigil was interviewed by el Restaurante publisher Ed Avis.
---
     Puerto Alegre started with my dad, Ildefonso Vigil, around 1968. But the story begins even
ALFONSO LOPEZ URBINA
Ildefonso Vigil and Maria Refugio Vigil
Ildefonso Vigil and Maria Refugio Vigil
before then. In 1963 my dad and his brothers — Jose, Jesus and Pablo — bought a building in the San Francisco Mission District, primarily Mexican neighborhood, with a little makeshift restaurant in it. They named it Mexico Lindo. I was just a little girl then, and it was lovely to see the whole family working together, figuring out living and working together as well as their relationships. I have sweet memories of our neighbors coming into the restaurant early mornings on weekends with their pots for orders of menudo and birria.
     My parents strongly believed in teaching my siblings and I the importance of work. So they put us to work right away, sweeping, serving, even prepping. Speaking of the menudo, I remember when the big blocks of tripe would come in and we would have to clean and cut it with our bare hands. That involved us using sharp knives, so my dad, being the creator of things, invented a menudo cutter that would allow us to safely cut the menudo into little squares and save us from cutting ourselves. There were always things like this happening.
     It was interesting to see Mexico Lindo evolve, as well as our families relationships. Eventually two of my uncles went off and opened up a bar, Vigils Club, and then in 1968 my dad opened this restaurant, Puerto Alegre, also in the Mission District, on Valencia Street. People told him it was a terrible neighborhood, with a lot of liquor stores and X-rated theaters. They called him foolish, but my dad stuck to it.
     My dad also believed in living where you work so we grew up living in the apartment above the restaurant. All of us worked there, serving, cooking, prepping, stocking and even bookkeeping. It was a restaurant, but we use to have a pool table and pin ball machines for our regulars who followed us here from Mexico Lindo. My brothers even had a hobby fish tank there.
     Around 1978 my dad opened another place. He named it Puerto Alegre 2, in another corner
ALFONSO LOPEZ URBINA
Patricia, William, Amparo and Lorenzo Vigil
Patricia, William, Amparo and Lorenzo Vigil
of the Mission. Not many people know about this location as it is more of a neighborhood place. So my dad went on to Puerto Alegre 2 and my siblings, Lorenzo, Willy, Pattye and I took over Puerto Alegre on Valencia.  
      We got a liquor license around 1980. My brother Willy mastered our margarita recipe and we became famous for our margaritas. It was around this time that the neighborhood started changing. We still had the pinball machines, but our regulars only came in the mornings to play them. In the evening we would put boards over them and use this like a waiting area. Our customers would have chips and salsa and even order drinks there. Eventually the pinball players retired and moved on. I remember the day we took out the pinball machines – it was heartbreaking!
     That gave us room to put in more tables. We also put in more booths to make it homey. Since we lived upstairs, the restaurant was like opening up our home to our customers. We love offering our Mexican hospitality making everyone feel at home here with us. We love our customers.
      The menu evolved too. At Mexico Lindo we had birria and menudo, chile Colorado, lengua en salsa, delicious tortas, tacos, enchiladas and a bit more. We brought some of these with us to Puerto Alegre. But when the margaritas took off in the early 1980s we felt that we had to balance out the restaurant with more food. So, we added our poblano and potosino moles  and a pozole verde, which people rave about. Our chef, Angel Ramirez, makes all of Puerto Alegre's great food. On the weekends we put out a brunch menu with menudo, chilaquiles, huevos rancheros, mimosas and lots of other delicious brunch dishes.
      It has also always been important for me and my siblings to be a part of our community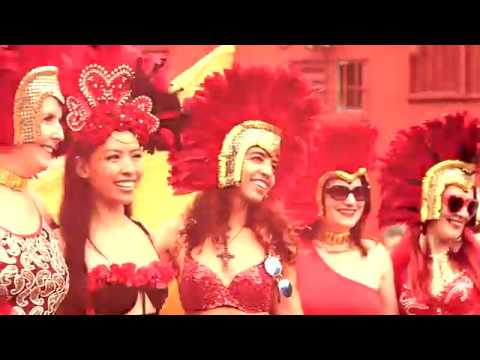 here in the Mission. Carnaval is celebrated yearly here in the Mission, with a huge parade, street fairs and more. So about 12 years ago I worked with one of our loyal customers, a photographer, and put up fabulous photos of Carnaval. Our customers loved it. We have since worked with many other loyal customers and artists to curate art exhibits at our place.
      Calixto Robles, a SF Mission resident and artist known for his fabulous work, has been a loyal curator for us. He curates our yearly Day of the Dead art exhibit, inviting many local artist to join him. In the last couple of years, he also helped us put together some daring resistance art. Fiestas Frida is a huge celebration that happens in the Mission, and one of the yearly exhibits that we do at Puerto Alegre. Francisco Franco, another great artist and curator, just put up our Frida, El Color y El Dolor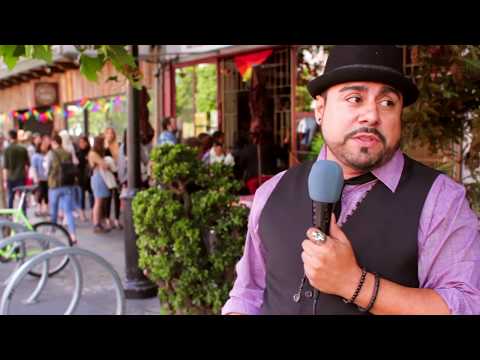 art exhibit last week. Another great curator, Bird Levy, has done many exhibits with us. Together, we did a Mujeres de Valor/Mujeres Fenomenal art exhibit earlier this year putting attention on woman's issues.
      We get to do other fun things with our community as well. For Sunday Streets in the Mission, we collaborate with our community organizations, like PODER (People Organized to Demand Environmental and Economic Justice). Together we put out information to empower our gente and we dance to the music of Latin American Workout with Jaime Martinez (and more). We also share art with our community Sugar Skull artist, Michele Simon, as well as community vendors and screen printers. We do this all out in front of our restaurant. Lots of fun, with the streets closed. It's all about creating and holding on to our community.
     My dad will be 89 soon. He's been our foundation and our rock. But another generation is getting involved. My niece Cecilia is 18 and helps out on the weekends hosting and serving, and another niece, Elizabeth, helps in the office. My grandson DeAndre Gonzalez is helping me right now. Everyone comes and helps at different times. Now my siblings and I are exploring what will come next.